Custom display packaging boxes also known as point-of-purchase (POP) displays are an essential component of any retail business. These boxes are designed to showcase products in an attractive appealing way, making it easy for customers to identify and buy the products they want.
According to a study by Point-of-Purchase Advertising International (POPAI), 76% – 70% of purchasing decisions are made at the point of sale, meaning that the design and placement of custom display boxes can greatly influence a customer's decision to purchase a product.
Another study by POPAI found that custom display boxes can increase sales by 30%. This is because the boxes are specifically designed to highlight the product and make it stand out among other items on the shelf.
In this article, we will discuss the various types of custom display packaging, the benefits they offer, and how custom product display packaging improves the customer experience.
Types of Custom Display Packaging Boxes
Counter Top Display Boxes
Counter top display boxes, also known as countertop displays or counter displays, are small, portable boxes or racks that are used to showcase and promote products in a retail sector. These display boxes are placed on countertops such as dashboards or front tables, to attract the attention of customers.
One of the main advantages of counter top display boxes is their versatility. They can be used to showcase a wide range of products, from small items such as jewelry and candies to larger items like books and gadgets.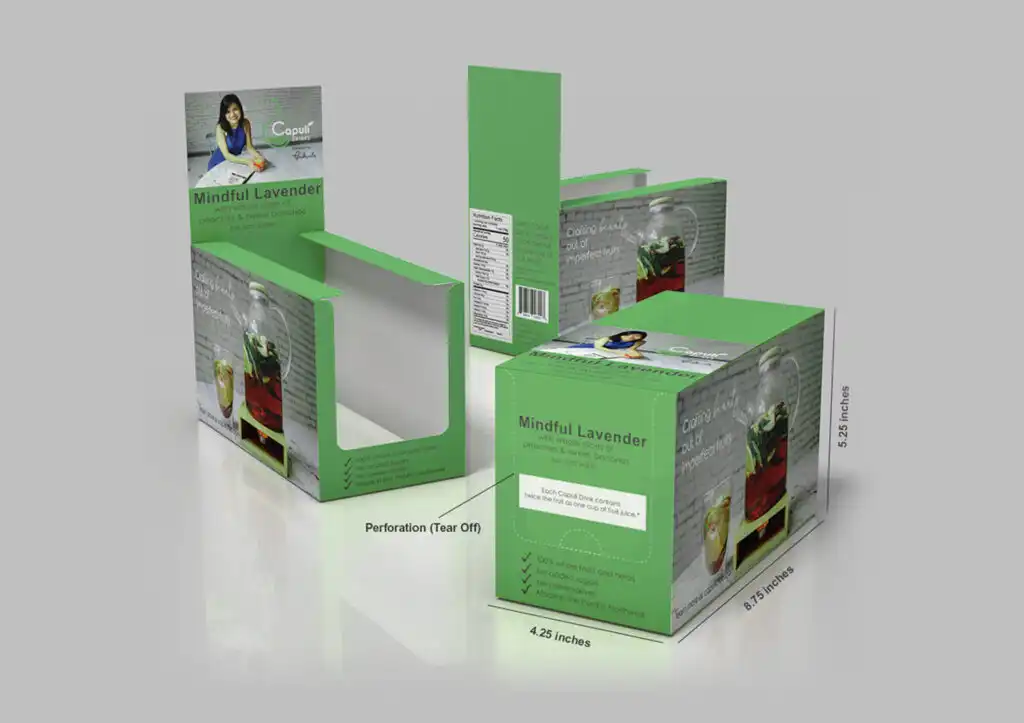 Another advantage of counter top display boxes is their portability. They are easy to move around, so they can be placed in different locations within a store to maximize exposure and sales.
Additionally, they are lightweight and easy to set up, making them a convenient option for businesses that need to frequently change their displays.
Counter top displays come in many different styles, sizes and designs. Some are made of brown kraft paper, while others are made of white and grey cardboard.
Floor Display Boxes
These boxes are designed to be placed on the floor of a retail store and are typically larger and sturdier than countertop display boxes. They are ideal for showcasing larger products, such as electronics, home goods, or clothing.
Floor display boxes can be customized with graphics, product information, and other details to help customers easily find the products they are looking for.
Power Wings
Power wings are also known as sidekicks. The main reason why it is called that way is that these display boxes are attached to the main shelves or any fixed structure inside an establishment such as supermarkets and grocery stores.
To effectively pull off this kind of marketing strategy, all power wings should be hung at eye level to promote impulse purchases.
Some are freestanding, while others are wall-mounted. Some displays are designed to hold one or two products, while others can hold multiple items. It's important for businesses to choose the right display for their products, and also for their store design.
Benefits of Custom Display Packaging
Make a lasting impression and drive more sales

Custom display packaging can help to increase sales by making it easier for customers to find and buy products.
Elevate Your Brand Visibility
Custom display boxes can also help to increase brand awareness by featuring a company's logo or branding prominently.
Reduced Product Damage
In addition, the use of custom display packing boxes may assist in the prevention of product damage by providing protection for the products while they are being transported and stored.
Enhance Your Brand Identity
Display packaging can be used to create a cohesive brand identity. By using the same design and colors across many display boxes for collectibles, a retail business can create a sense of consistency and continuity throughout its store. This can help to create a positive brand image and make it easier for customers to find products.
Create a Sense of Exclusivity
Display boxes are used to create a sense of exclusivity. For example, a retail store can create a special display for high-end products using custom retail display boxes with premium materials and finishes.
This can help to create a sense of luxury and exclusivity around the products, making them more desirable to customers.
Conclusion
In conclusion, custom boxes are an essential component of any retail business. They can be used to showcase products in a visually appealing way, increase sales, and improve the whole customer experience. With the many different types and styles of custom printed boxes available, retail businesses can find the perfect solution for their needs.
Whether you are looking for counter top display boxes, CBD display boxes, cosmetics display boxes, or custom display packaging boxes, PackagingX can help you to create a cohesive brand identity, increase brand awareness and boost sales with our custom display boxes wholesale.