Cosmetics have been used for centuries, and pinpointing the exact merging date is difficult. However, major flourishment happened in this industry during the late 19th and early 20th centuries.
Years of flourishment with rapidly changing preferences create the highest competition in the market. Rounds lead to the need for solid branding to reach significant market segments. In this situation, companies seek innovative and differentiative ways to stand out. Capture market share and cater to the evolving needs of consumers with cosmetic packaging with small business. To cover the intensity of competition, ten packaging ideas are explained for your convenience:
Reasons Why Small Businesses Adopt Custom Packaging
Custom packaging for small businesses provides numerous benefits in a highly competitive market.
Individuality Among The Crowd: The aspects of packaging differentiate you from larger, established brands. Distinctive brand identity effectively affects brand recognition, loyalty, and repeat purchases.
Connection With Customers: It can vibrate consumers' emotional strings to create curiosity to try the product. Plus, tell the brand's story and its values to customers for deeper connection and foster brand advocacy.
Catch The Attention: Innovative and exciting features catch the consumers' attention to drive sales.
Enhanced Appeal: Creative cosmetic packaging designs enhance the products' appeal for the physical and online marketplace. In short, it has the potential to generate an organic market and reach a wider audience.
| | |
| --- | --- |
|                           Ideas Name |                               Explanation |
| Multipurpose and reusable packaging | Packaging that has more than one function to entice customers |
| Colorful and intriguing design | Boost the packaging appeal to capture the customer's eyes. |
| Interactive Unboxing experience | Increase the chances of a sale |
| Artistic Illustration | Communicate the aspects of the product in a creative way |
| Gift Wrapping Packaging Solutions | A customized solution for gifting Products to loved ones |
| The minimalist and elegant approach | A trending approach that gives a clean look to the packaging. |
| Vintage-Inspired Packaging | Capture the eyes of different market segments with old-fashioned design. |
Ideas that Click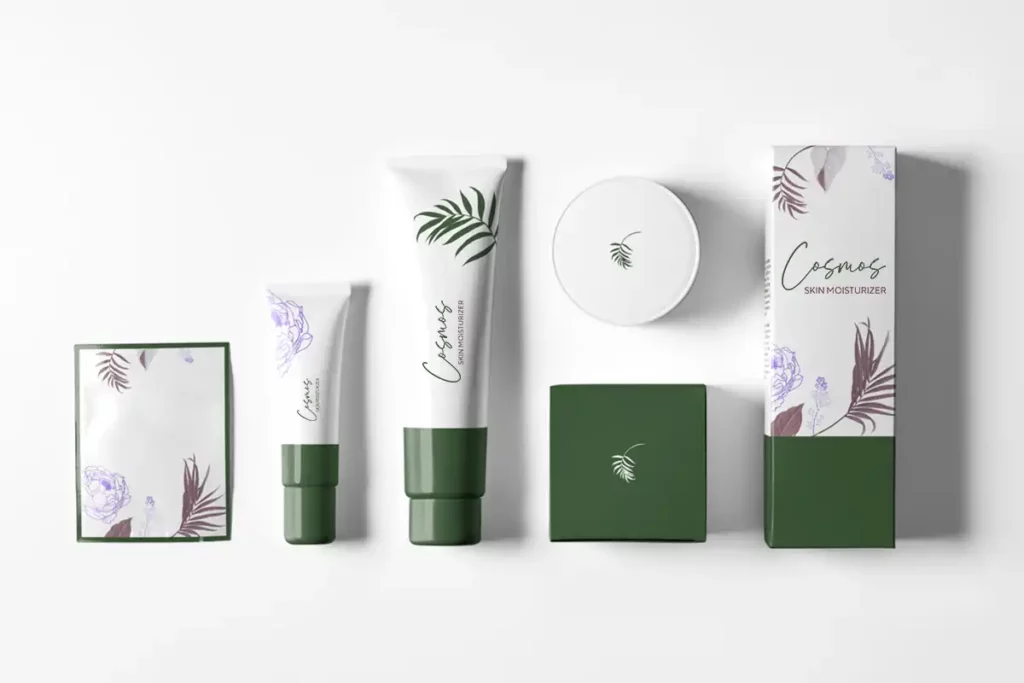 Here are some practical packaging ideas to upgrade your brand's name and boost the appeal of your product for maximum sales and recognition by potential customers.
Sustainable Cosmetic Packaging For Small Business
Embrace sustainable cosmetic packaging to cover the demands of an environmentally conscious audience. Start using biodegradable or compostable packaging, recycled materials, or plant-based plastics to show your commitment to the audience.
Studies say plastic causes 380 million tonnes yearly, which is vast and requires years to decompose. Therefore, incorporating organic textures promotes the earth's beauty for future generations.
It is also effective in reducing the effects of global warming. Waste releases greenhouse gases when it decomposes and contributes to climate change. Proper waste management is essential to mitigate this impact.
Personalized Packaging
Customers prefer solutions that foster a sense of ownership, and customized packaging can do this. Adding different names, initials, colors, designs, and add-on elements allows the customers to make the packaging of their own choice.
Customized packaging solutions are also beneficial for business growth as they will enable the brands to design and set the size and style of packaging according to the products' dynamic. Plus, 72% of US citizens like the concept of custom packaging; they believe its features change their buying decision(Ipsos).
Colorful And Intriguing Design
Vibrant colors with intriguing designs make your brand exciting for customers, attract a younger demographic, and create a sense of fun. If we analyze customers' buying behavior, then 85% of customers would say that colors are the primary factor that makes buying urges.
Besides that, color is the only factor that enhances brand recognition by 80%. So, using bold colors, whimsical illustrations, and playful patterns in a ritual will not be wrong.
The Minimalist and Elegant Approach
This approach aims to make your packaging luxurious with simplicity and clean lines and refine aesthetic characteristics. You do not need to put extra effort if you are making sure to use limited color palettes with minimal typography, which gives center stage to your cosmetic product.
Nowadays, customers also prefer clean and modern aesthetics. Make this approach your number one choice to show your product's quality and save you time that might be wasted on designing packaging.
Interactive Unboxing Experience
Customers mainly consider that brands provide them with interactive packaging. Adding compartments, inserts, and windows to reveal the products adds excitement and surprises the customer while unboxing.
Plus, the chances of uploading unboxing videos on different social media increased by 40%; this approach created a sense of anticipation. Increased brand visibility generates organic traffic. Besides uploading it on social media, customers like to save videos to recall the memories.
Add an element of delight and differentiation with this method. It is also helpful in satisfying customers and building lasting impressions.
Vintage-Inspired Packaging
Video typography, classic color scheme, and vintage illustration are the critical aspects of this approach to create a unique and timeless appeal. A connection to bygone eras to draw inspiration from the past. Discussing it is also a way to stand out on store shelves and encourage the customers seeking nostalgic and clastic aesthetics to buy your product.
All the best to start your new journey with this timeless approach to creating a sense of authenticity and craftsmanship in your packaging.
Magnetic Closure New Packaging Design Trend
Replace traditional zippers with a secure closure mechanism to enhance customer experience. This design creates a premium feel, and how it opens and closes ensures content security.
This packaging is for those customers who pay attention to detail and appreciate elegant and practical packaging solutions. Consider it an excellent choice for enhancing brand perception and capturing consumer interest.
Furthermore, the luxurious touch and sophisticated look enhance the overall unboxing experience for customers.
Artistic illustration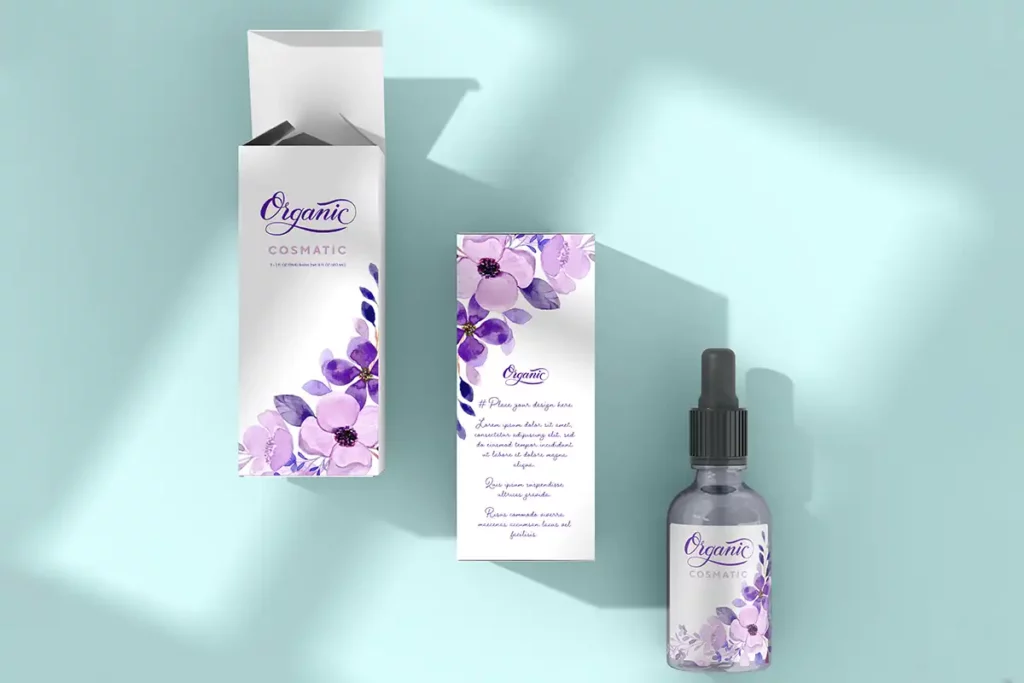 It establishes an emotional connection by providing a memorable first impression. Appealing and creative designs with vibrant colors entice potential buyers. Convey brands' personalities and values to stand out on the shelves.
Artistic packaging entices the customer to explore the product further. Creative illustration communicates the products' essence and story well, ultimately influencing the purchase decision.
In addition, it triggers a positive association and evokes curiosity and interest. Customers are more likely to share their excitement about a product on their social media, which creates word of mouth for your company.
Multipurpose And Reusable Packaging
It is the process in which the packaging material is designed in a way that can be reused after the customer receives the product. This way helps you in reducing waste and promotes a healthy environment.
Moreover, around 60% of the American audience prioritizes sustainable packaging. So, start this practice right now to showcase your commitment to an environmentally conscious audience.
It is also helpful in enhancing the overall customers' experience in terms of providing long-term utility and reducing the need for other packaging materials in the future.
Gift Wrapping Packaging Solution
Customers are more likely to purchase beautifully wrapped products to present them as a gift to their loved ones. The extra touch of thoughtfulness enhances the customer shopping experience with you.
Professional and aesthetically appealing gift packaging services with high-quality paper wrapping, ribbons, bows, and personalized gift tags. All create a sense of authority in the customers, save them time, and eliminate the effort they spend purchasing separate gift-wrapping material.
The overall presentation elevates customers' satisfaction and loyalty. It also demonstrates that brands do care about their customers.
Branded Shipping Boxes
Boxes with prominent features, a logo, and other brand details are a powerful marketing tool to increase the brand reach and visibility. We create a cohesive and professional look for shipping products. Every box that delivers to your customer's doorstep advertises your brand.
Branded shipping boxes increase brand recognition; recipients see a logo they immediately associate with the brand. Provide a consistent brand experience as it creates a sense of anticipation and excitement when customers receive their orders.
It has the power to improve operational efficiency and reduce the need for expensive packaging material, ensuring secured transportation.
Conclusion
Remember, the purpose of mentioning all the packaging ideas is to provide you the opportunity to showcase your brand's personality and leave a lasting impression on your customer effortlessly. Tailor these ideas to align them with your brand values, target audience, and product offering, which will help you deliver an unexceptional unboxing experience.
FAQs
Q: Is eco-friendly packaging beneficial to upgrade the appeal of my business?
A: It is the direct approach to showcase to environment-conscious consumers that you are with them in promoting sustainability. Plus, differentiate your brand from others by spreading a positive brand image.
Q: How can I enhance the appeal of my packaging?
A: Customization is how to get it; packaging with your company label increases brand recognition. Reduce the cost of advertisement by spreading free brand awareness.
Q: Will shipping your product with branded boxes help your business?
A: Branded shipping packaging creates a professional and cohesive look for your shipment. Plus, receiving a product in customized packaging builds customer trust. Spread the positive word of mouth among the customers.
Q: Is multipurpose packaging helpful in environmental sustainability?
A: Yes, 100%, as it allows users to reuse the packaging for other purposes like storing office files or collecting coins. It reduces waste and fosters customer satisfaction and loyalty.
Q: Should I use the gift wrap packaging option to boost the product's appeal?
A: Add convenience for customers and increase the perceived value of your product. Customers do not need extra packaging to present the product as a gift to their loved ones. A thoughtful presentation contributes to word of mouth.